The Classic Camera Revival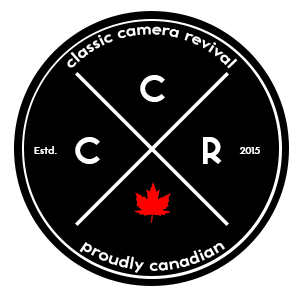 Welcome to the official FAQ page about the Classic Camera Revival Podcast. CCR aims to inform, inspire, rant, and discuss all things film photography. While we do have a focus on classic cameras we also dig into the realm of lenses, scanning, film, and darkroom. We currently are celebrating our fifth anniversary on the air and what a wild ride these past five years have been! Since our fifth season we produce two podcasts a year with most around the 30-60 minute mark. We are always looking for new people to come on and talk about a camera, film, or technique they're passionite about! So if you have something you find interesting, give us a shout. While we do mainly pre-plan and pre-record there's always room on an episode for a special guest and we can record remotely!
---
You can find our podcasts online on
Podbean
you can also subscribe via
Apple Podcasts
or on
Spotify
. Looking for the list of episodes, you can find them in broadcast order on the Blog
CCR Episode Index
. And you can find us on
Facebook
,
Twitter
&
Instagram
. Got a suggestion you can let us know through Social Media or Email:
classiccamerarevival[at]gmail[dot]com
.
---
---
Primary Hosts

Alex

Luyckx

Alex Luyckx has been shooting like a madman for a good ten years now, but his interest in cameras as a technology goes much further back but it would be a media english class in highschool that got him seriously thinking about photography. A chance find of a Minolta Hi-Matic 7s at a garage sale and he was off. The Hi-Matic quickly turned into a Minolta SR-T 102 and then an X-7a. A Minolta DiMAGE Z2 saw his photography change with the digital age. While some people may knock it, Alex embraces it, as it got him the technical know-how about photography from composition to exposure. It would be the arrival of a Nikon F80 and running across the Film Photography Podcast that would see a return to film in a big way. Soon he would be back developing his own black & white film as well as colour, printing in a darkroom. While the Nikon F80 is a thing of the past, he still runs primaraly with Nikon using the professional F2 and F5 backed up by an FA, FE, and F90. For Minolta, yep he still shoots with an XE-7, XG-M, and Maxxum 9. Rounded out the larger formats is a Rolleiflex, Hasselblad, Mamiya m645, and a Crown Graphic.

---

John

Meadows

John Meadows has grown up up with photography as a teenager in the 1970s using a Kodak Brownie camera along with his father's Vito B. The arrival of his first SLR, a Yashica Electro-TL saw his photography expand. Learning the craft of film processing and printing in his Highschool Darkroom and using those skills to help out with his school newspaper and yearbook gave John the foundations he needed to continue on with photography. He would be drawn away from film briefly with a dabbling in digital photography, but the siren song of film would draw him back. A choice to return to film is one he doesn't regret on a single moment. Today John shoots a variety of subjects on a variety of cameras from his favourite TLR, a Rolleiflex 3.5E3 to a Hasselblad 500C/M, not to mention a Bessa Rangefinder and the mightly Nikon F4, their isn't a subject that John doesn't enjoy photographing.

---

James

Lee

James loves making connections to the people he photographs and firmly believes in the friendships and connections made are paramount to emotional portraiture. James has been involved in the craft since the age of 16 and learned the art of black & white using traditional film and darkroom techniques. He's done professional wedding work for several years. His recent reintroduction of film to his workflow is thanks to a chance meeting of Alex at a local Camera Club, and thanks to that friendship now have a massive selection of film cameras once again. James is a member of the Professional Photographers of Canada, Wedding and Portrait Photographers International, a former instructor at Sheridan College's Applied Photography Program, and brings a professional slant to the podcast.

---

Bill

Smith

Bill Smith has been enamored with photography in his childhood playing with toy cameras before they were cool along with shooting in 127 format film when it was still around. By the time the late 1990s rolled around Bill was working in marketing and one birthday received a Canon Rebel G from mom and dad with a subtle hint he was working too hard. Later on Bill switched to older manual focus cameras, inheriting his dad's Leica M3 and early Nikon F and taught himself how to process black and white film and print in a darkroom. Over the years he collected both 35mm and 120 format cameras with a strong focus on manual focus gear from brands including Nikon, Canon, Olympus, Asahi Pentax, Minolta, Leica, Mamiya and Franke & Heidecke (Rolleiflex) and Hasselblad. Bill shoots mostly black and white and C-41 and likes printing in his darkroom.

---

Co-Hosts and Subject Matter Experts

Trevor

Black

Trevor is a recent addition to the co-host team, a long time professional photographer who got his start with newspapers. He even had a trusty F4 and F90x during the Blue Jay's second World Series victory (the one won at home). He is also an avid travel photographer and currently operates his own photography business running photo booths!

---

Chrissie

Wu
coming soon

---